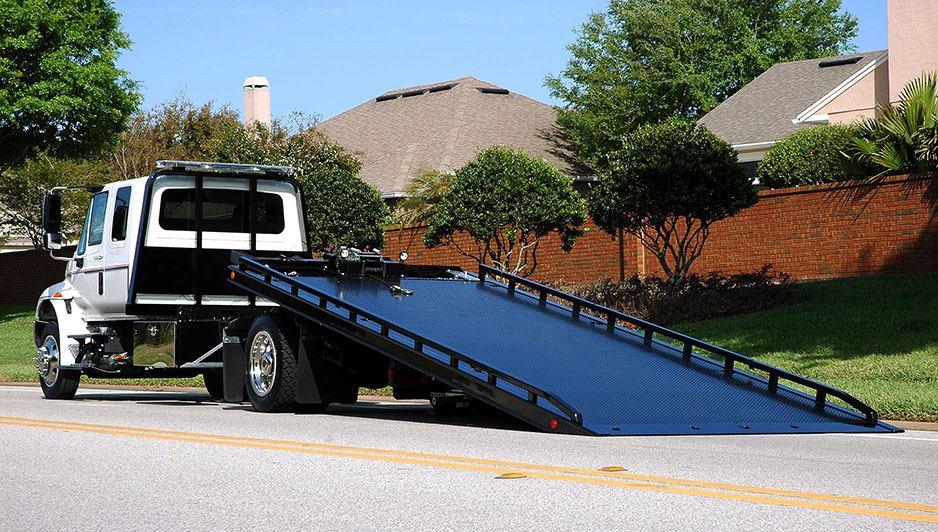 Chevron 16 Series LCG™ Gallery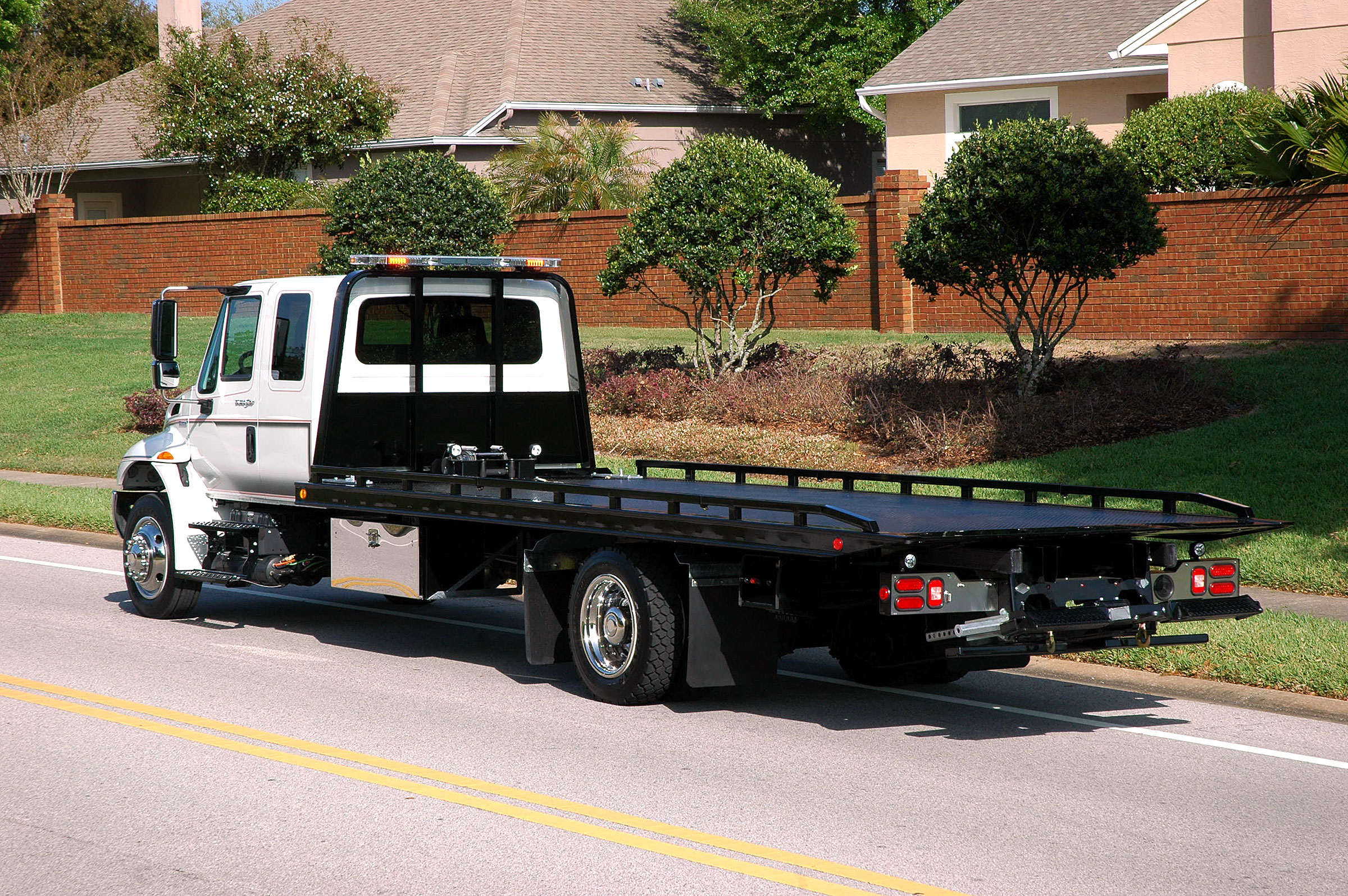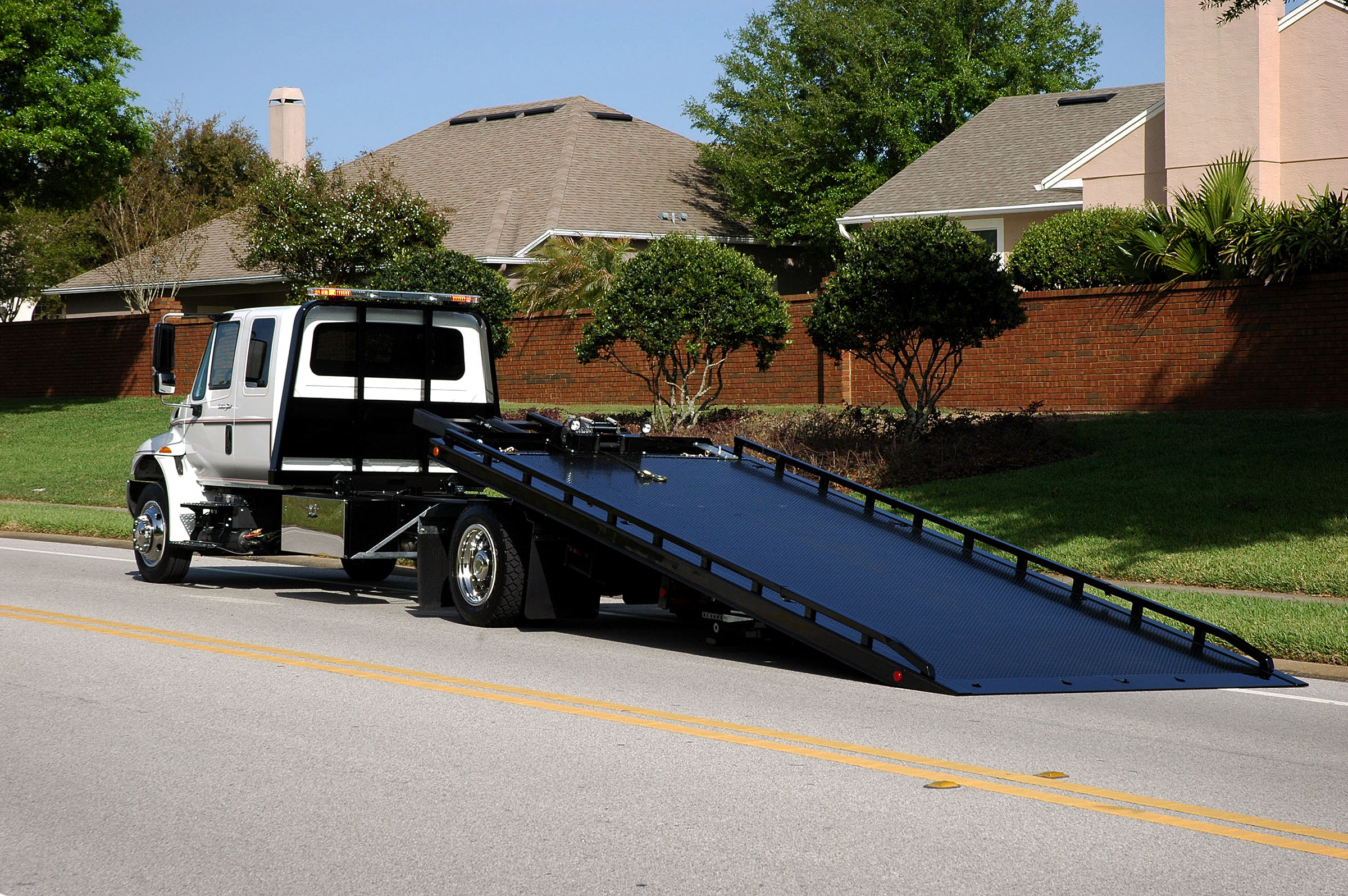 Full Gallery
Features
Standard
Platform Available in Aluminum or Steel
Bed Built 102" Wide
Floor Level Sides w/ Stake Pockets (Steel)
Bi-Hollow Tube Rails (Aluminum)
Right & Left Chain Trays
11 Key Slot Package (Steel)
Painted in Black Acrylic Enamel (Steel)
Slide Pads
Bed Anti-Tilt Lockout
Roller Bed Positive Lock-Down
Left & Right Side Illuminated Controls
Full Function Wheel Lift System
Slide-In L-Arms w/ Anti-Theft Storage
Safety Chains (2 Front, 2 Rear)
Adjustable Rear Stabilizer
6-Spool Capable Control Station
Two Lift Cylinders
One Extension Cylinder
8,000 lb Hydraulic Winch w/ 50' Cable
Manual Shift Winch Clutch Release
Cable Tensioner
Cable Roller Guide
Federal Standard #108 LED Lighting
Pre-Wired Electrical Junction Box
Back-Up Lights & Alarm
Tow Light Socket
Hydraulic Pump
Mud Flaps
Optional
Frame-Mounted Pylon (Requires 6" or 12" Additional CA depending on size of pylon base)
Bed-Mounted Cab Protector
SP 8000 Sidepuller (Requires Additional 12" Cab-to-Axle)
Smooth Floor in lieu of Tread Plate (Steel)
Color on Top of Deck & Side Rails (Steel)
Solid Tube Side Rails (Steel, N/C))
Solid Narrow Profile Rails (Aluminum)
Steel Removable Tube Rails
Aluminum Removable Blade Rails
Load Rite Gen II® Option
9-Spool Control Station Capable
Optional Planetary Winch
Air Shift Winch Clutch Release
Dual Air Shift Winch Clutch Release
Side-Mount Winch
Galvanized Subframe
Wood Floor*
Rumber Flooring
Additional Key Slots
Wireless Winch Remote
Work Lights (Rear, Pylon, or Winch Mounted)
Additional Lighting
3-Way Pivoting L-Arm System
Combination Dock Stabilizer / Wheel Lift
Hydraulic Stabilizer w/ Extendable Pintle
Various Wheel Retainer Options
Auto-Grip™ II Wheel Lift
Steel or Aluminum Tool Compartments
Various Chain & Strap Assemblies
PTO
Switch Panel
Stabilizer Spades
Air Free Spool Dual AFS
*N/A on LoadRite II or Aluminum Deck
Specifications
Carrier
| | | |
| --- | --- | --- |
| Load Rating | | 16,000 lb |
| Deck Height Above Chassis Frame | Steel | 7 1/4" |
| Deck Height Above Chassis Frame | Wood | 8 1/4" |
| Platform Length | | 20.5', 21', 21.5', 22', 23', 24', 25', 26' |
| Platform Floorplate Thickness | | 3/16" |
| Platform Width | Outside | 102" |
| Platform Width | Inside* | 96.5" – 101" |
| Platform Mainbeam | | 6" I-Beam |
| Platform Crossmembers | Steel | 2 1/2" x 2 1/2" Cor-ten Tube, 8" on Center |
| Platform Crossmembers | Aluminum | 3" Aluminum, 4" on Center |
| Subframe Rails | | 5" x 3" x 3/8" H.S. Tube |
| Rear Pivot | | 1 Piece 1 1/2" Diameter |
| Winch (First Layer) | | 8,000 lb Worm |
| Cable | | 3/8" x 50' |
| Bed Tilt Cylinders | | 3 1/2" Bore |
| Bed Extension Cylinder | | 3 1/2" Bore x 120" Stroke |
| Wheel Lift Reach | Extended | 66" |
| Wheel Lift Rating | Extended | 4,000 lb |
| Tow Rating | | 10,000 lb |
Chassis Recommendations
| | | |
| --- | --- | --- |
| GVWR | 26,000 lb – 33,000 lb | |
| Minimum Frame Height | 36" | |
| Maximum Frame Height | 40" | |
| Wheel & Tire Size | 275/70R 22.5 | |
| Minimum Frame Length Behind Center of Rear Axle | 36" | |
Cab to Axle (C.A.) Requirements
| | | |
| --- | --- | --- |
| 20.5' | 132" | 600,000 in/lb |
| 21' | 138" | 800,000 in/lb |
| 21.5' | 144" | 800,000 in/lb |
| 22' | 150" | 800,000 in/lb |
| 23' | 154"-156" | 1,200,000 in/lb |
| 24' | 166" | 1,200,000 in/lb |
| 25' | 170" | 1,600,000 in/lb |
| 26' | 182" | 1,600,000 in/lb |
Fuel tanks must be under the cab, not to extend behind the cab. The preferred location for the battery box is under the passenger seat or under the cab, battery boxes in other locations may require relocation. Chassis components directly behind the cab must be 2" below the top of the truck frame.
* Inside bed widths will vary based on siderail option selected.
** Add 6" to C.A. for frame mounted pylon.
‡ The outside frame rails of the chassis extending behind the cab must be free of fuel tanks, air tanks, exhaust racks, etc. Air-bag rear suspensions are recommended for the lowest possible load angle but the L.C.G. carrier can be mounted on some chassis with leaf spring suspensions. Most chassis components behind the cab outside the frame must be at least 2" below the top of the truck frame to clear the bed slide rails.
Important: All ratings are based on structural factors only, not vehicle capacities or capabilities. Specifications shown are approximations and may vary depending on chassis selected. Miller Industries Towing Equipment Inc. reserves the right to change or modify product and/or specifications without notice or obligation. Some equipment shown is optional.
Keywords: chevron , 16 Series LCG , new , roll back , flat bed , slide bed , tilt bed , car carrier , heavy equipment movers , car towing , truck towing , recovery equipment , towing equipment , vehicle transport , incident management , miller industries
Similar to
Chevron 16 Series LCG™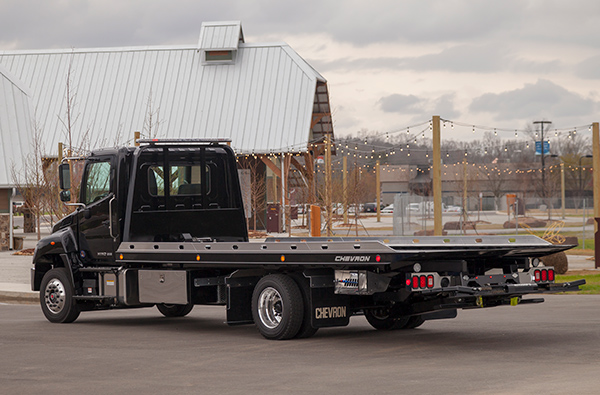 Chevron 12 Series LCG™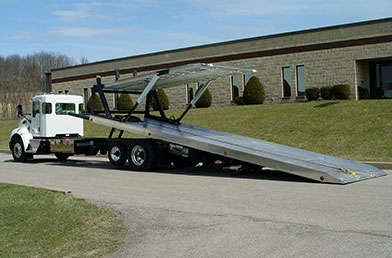 16 Series Multi-Deck LCG™
Financing Available
24–72 Month Terms
24 Hour Turnaround
Quick & Easy