Functionally Superior
Form
One advantage that Miller Industries' customers have when looking at a new wrecker or rotator is that we provide different models to cover multiple capacities. A great example of this is our rotator platform of products. We offer rotators in capacities ranging from 35-Ton to 75-Ton. We do this by having a consistent form and staying true to the design across all capacities. With many of the same functions, operators can easily go from one capacity up to the next with minimal product familiarization.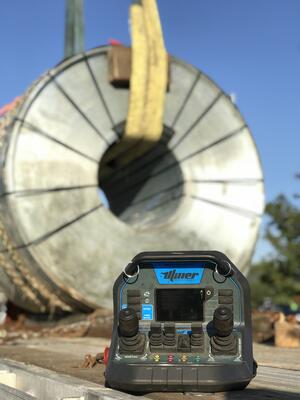 When looking at a product's form or design you have to look at its features and what makes them work for you, more specifically if it is the best option for your money. One feature found on our rotators that far surpasses the competition is our patented Raptor Remote Control System.
This proportional control system uses joystick controls to precisely control the boom and winch functions during recoveries. The Raptor Remote's simplistic design make it one of the most popular systems to have in towing & recovery.
When it comes to our integrated platform, we have multiple forms to choose from. Our Century and Vulcan lines are equally efficient but have different designs. When picking the right option for you take a look at what options you need for specific recoveries, such as CA or Cab-to-Axle length for turn radius (in city streets/urban areas), or perhaps the length of reach on the underlift. These factors can weigh in on how well the wrecker fits your needs.
Fit
Now that you have looked at all of the ratings and features of the different wreckers and rotators, you will need to figure out what best fits your needs. One option that we offer at Miller Industries is to come and look at how we make the products, and kick the tires before you decide. If you are trying to decide which options are best for your next heavy-duty wrecker or rotator, contact your local distributor and request to come to visit our Heavy-Duty manufacturing facility in Ooltewah, TN.
Here we can show you many different truck chassis configurations, as well as review different wrecker or rotator models and the options that might make a difference for your towing and recovery needs. You can even get hands-on with some of the equipment to try it out. We have the tools onsite for you to test and operate our full product line to find the right fit for you.
Another factor to consider is the servicing of your equipment after you own it. Miller Industries is set up with the largest distributor presence in the industry. That translates to having more distributors and service locations. Additionally, we strive to provide all of our customers with world-class customer service.
Function
Now that we have covered the basics, let us talk about the function and how it can best work for you. There are a few functions we should cover when talking about heavy-duty towing & recovery:
Towing- For many companies towing is where the bulk of the revenue for business exists. Sure the large recoveries make the headlines, but they are not as plentiful as the average tow job. For this reason, a tower's "bread & butter" can be dependent on how reliable and efficient the towing equipment is. This is exactly why we have designed the towing device as an integral part of our rotators. We offer the largest selection of underlift capacities and variations in the industry. Reducing over-hang (measurement from the towing point to the rear pivot point) during towing is another critical factor that affects the overall ability of your wrecker. With more front-end weight and less overhang at the rear, you can tow and maneuver those heavier fixed-frame vehicles.
Recoveries- The Raptor Remote Control System can make a difference when handling tough recoveries. With a combination touchscreen and joystick functions, this system is very easy to use. The screen allows the operator to see load capacities and view load sensing systems while keeping an eye on ratings placed on the equipment for when those unexpected load shifts happen. Whether your need requires 75, 50, 45, or 35-Ton capacities, we have you covered. The Vulcan® V-100 and V-70 heavy-duty integrated wreckers provide a 3rd winch option, known as the drag winch. This center-mounted belly winch can provide extra efficiency when handling heavy rollovers by allowing you to change the center of gravity of your wrecker during the recovery.
Side-Pullers- When it comes to side pullers, we have you covered, from our SP 20,000 to our SP 850-XP side puller options. Our SP 850-XP (shown below) offers a wider footprint than any other heavy-duty side puller option in towing and recovery. With its tried and true wide adjustable stiff leg stance, it makes challenging roadside recovery that much easier. Add the dual 35k lb. winches and you have the capacity to handle even the toughest recoveries. The need for limiting traffic obstructions during road-side recoveries is important and with the side puller option, you can reach over a guard rail to conduct a stable side pull. When not in use the side puller stuff legs tuck away inline with the toolboxes. This is another helpful feature to have in your recovery arsenal.
Heavy Winching- Stability is important when it comes to heavy winching. Our wreckers and rotators offer features to help maximize your winching capabilities. We engineer our wrecker units to ensure maximum stability and performance for the differing winch configurations that you can choose. Take the 3rd center-mounted belly winch option on the Vulcan® V-70 and V-100 for instance. This 3rd winch is mounted low in the center of the wrecker versus up on the boom like those found on the competitor's units. This helps to change the center of gravity of the wrecker when rigging the line for a low pull to the rear lower outrigger. Another great example of heavy winching ability is found on the Century© 1135 rotator. This 35-Ton rotator's center-mounted drag winch can aid in balancing the truck's center of gravity during hard side pull situations. See the below video to watch this in action.
Our rotator platform also offers a hydraulic dual H-Beam style outrigger system (seen below) that provides a wider stance than any other competing rotator outrigger system. Utilizing cribbing and proper rigging techniques the stability provided by the H-Beam outriggers helps to maximize low and high pulls, such as those needed in a "pick/pull" scenario.
Versatility Makes Profit
Catching the Big One
We have written numerous articles over the past decade on the industry's number one selling Heavy Duty Towing and Recovery Unit, the Century® 5130/5230. We have strived to continue product enhancements while maintaining the industry's best scaling tandem-axle unit. We all come to work waiting for the big one. Waiting for that opportunity to show our knowledge and skill on any recovery that we are challenged with. Yet day after day, companies around the world make their monthly bottom line in routine towing.
Scaling Defined
The foundation for the 25 Ton Century® 5130 is as a single axle unit. We see a lot of single axle 5130's going into the old-established inner cities around the Great Lakes, New England, and Mid Atlantic regions for better maneuverability. The 30 Ton Century® 5230 is popular domestically for City or State scaling requirements, while also supporting our Canadian and International markets. In both the 5130 and 5230 tandem axle models, no other wrecker manufacturer comes close to matching the weight-forward design, while maintaining less than 21,000 lbs. on the tandem drive axles. …and this is the key to scaling.
Making the Best Better
Superior front axle weight with minimal rear axle effects is key. We continue to work with our Class-8 chassis partners to keep the weight and the performance of our tow trucks at their best. In today's Class-8 truck market that is not easy! In less than one decade the trucking industry as a whole has gone from focusing on the independent over the road owners to larger corporate truck fleets. Large cabs, DPF and DEF requirements, as well as exhaust routings, are ongoing battles. Our highly skilled team of engineering and product support staff at Miller Industries have managed to meet these challenges and keep the Century® 5130/5230 on top of the ever-changing chassis with little to NO effect on axle weights.
Down the Road
What's down the road for these two models? As the leading manufacturer of towing and recovery equipment, you always have to be on top of your game. We travel to other industries and trade shows outside of towing to see how and what is new and innovative. We also have multiple-day events with our Class-8 partners and their vendors to explore their product offerings. Just last year we enhanced the turning radius on our Peterbilt® 389 standard spec chassis during one of these events. We were able to reduce the left turn by 14 feet and the right turn by 9 feet. We are talking about the enhancement of every new 5130 and 5230 that has hit the street since that introduction, and this is a huge accomplishment. Another jewel is our updated heavy-duty tire lift, which offers up to 12 to 16 inches of additional reach. This tire lift went through a redesign that reduced weight, improved tire safety, all while increasing the overlap on the crossbar. Our increased military exposure over the years has also taught us how we can run more effectively and efficiently while also testing our equipment to its limits in some of the harshest conditions in the world. Where this comes into play, is that we can provide robust features that have proven durability on our commercial wrecker models, and this gives added confidence to the operator.
The towing and recovery business is unique. Unlike the rise to the corporate structure that we see many businesses turning toward, in towing we are still a family-driven industry. You, as a tower, are by far the best source of knowledge we can learn from. Because of your knowledge and recommendations, we have made numerous underlift enhancements, convenience feature additions, new wireless controls, and lighting options, and they are now offered on all heavy-duty models.
You will see a lot of our energy being placed on our new tandem tandem product, the pioneering of our knee boom underlift (technology that has been tested and proven in every military project), and our continued expansion of the rotator product offering. We learned a long time ago that we need to listen to our customers and to provide products that make their job easier – safer – rewarding. Miller Industries does that better than anyone and will continue to do that down the road.
Of course you don't have to take our word for it. Just ask many of the satisfied operators of our equipment or just read the reviews at the bottom of this page. If you still have questions or would like someone to contact you, just fill out the form at the bottom of this page, or reach out to your local distributor. We are here to help.
Industry Experience Counts
With Experience Comes Knowledge
With over 30 years of experience in the industry, Miller Industries supplies the leading brands of heavy-duty wreckers and rotators in the industry- Century, Vulcan, Chevron, and Holmes. Our network of regional product specialists and sales associates helps support our even larger network of distributors with each sales associate having an average of 20 years of experience in towing and recovery. Our distributor network is the largest in the industry, and they are ready and able to support you throughout the working life of your wrecker.
Started in 1940, the Vulcan® brand really shines for its innovative, durable, and brutally tough design features. One example is the legendary tilt functions on the Vulcan® V-70 & V-100 heavy-duty integrated wreckers. Then you add options like an under boom-mounted 3rd winch that, when used on a low pull, re-centers the weight of the truck for maximum leverage.
Our Century® 7035 and 9055 heavy-duty integrated wreckers offer a street and coach low-rider underlift configuration for more front-end overhang clearance when towing. This is critical when towing pump, mixer, and fire trucks.
Our number one selling rotator, the Century® 1150, is designed with a weight-forward design eliminating the need for any sort of forward-mounted counterweight. The specialized engineering on our rotators allows for a much better weight balance and the overall lighter total weight of the finished wrecker due to fabricated components.
We offer three different styles of underlifts for heavy-duty towing: SDU4, HHU, and Knee Boom (shown below). Each style is unique in design and is offered in a 3-stage street and coach lowrider configuration. It is important to note that our rotator's recovery boom and underlift are independent allowing the operator to position the recovery boom above the truck cab and facing forward (shown below) to reduce the rear axle weight. This also allows the towed vehicle to be brought closer to the tailboard of the wrecker reducing the rear overhang and thus rear axle weight.
We have purposefully engineered more total toolbox storage in our heavy-duty wreckers over our competition. We also offer multiple toolbox configurations direct from the factory in an effort to meet your individual recovery and towing needs. It's not every day that you see a full UPF Polybody® toolbox configuration on a 50-ton rotator, but we offer it. This is just one example of many custom features we offer to help improve your productivity and support the overall longevity of your investment.
What does this all mean? We take the feedback we receive from the people that use our products (You), and we engineer improvements that help maximize the usefulness and efficiency of each unit we produce. Most important is that we stand behind our products.
All The Latest Tools & Accessories
Having all of the latest tools and accessories to go with your wrecker or rotator is a must. We offer so many accessories to outfit your new wrecker or rotator right from the factory. That way, when you pick up your new investment, it is ready to get to work. One of the benefits of having over 30 years of experience is our many inter-industry connections. We strive hard to stay abreast of changes that impact the towing and recovery industry. We manufacture parts and accessories over the life of your wrecker that you may need down the road. One example of this is our next generation 5 inch-wide heavy-duty towing forks.
These first-of-their-kind wider-girth forks are a product of a necessity in the towing industry that resulted from a manufacturing change in the over-the-road truck industry. These new forks allow for safer towing of the Hendrickson® line of axles. We engineered these forks to work with existing model wreckers and rotators. You can read more about these towing forks here. As a leader in the industry, it is our duty to stay connected and ready to respond with solutions for needs just like this.
Other accessories come from design improvements and feedback from towers and recovery experts who use our equipment every day. A great example of a feedback-driven improvement was the launch of our outrigger spade holder option on our rotators.
Here are some links to articles and videos that showcase some of our other accessories and product enhancements: