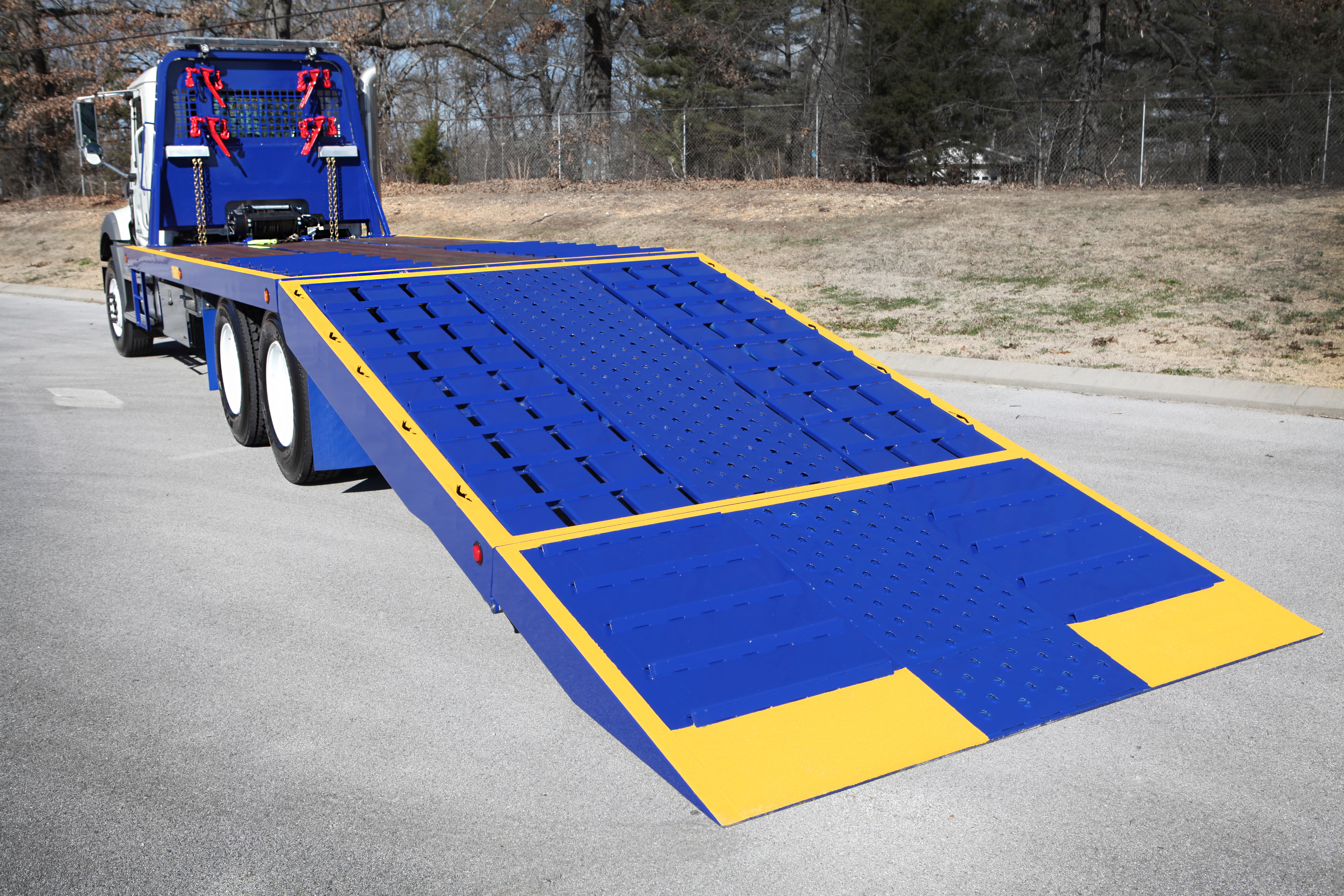 Titan Folding Ramp Flatbed
Titan® Folding Ramp Flatbed Gallery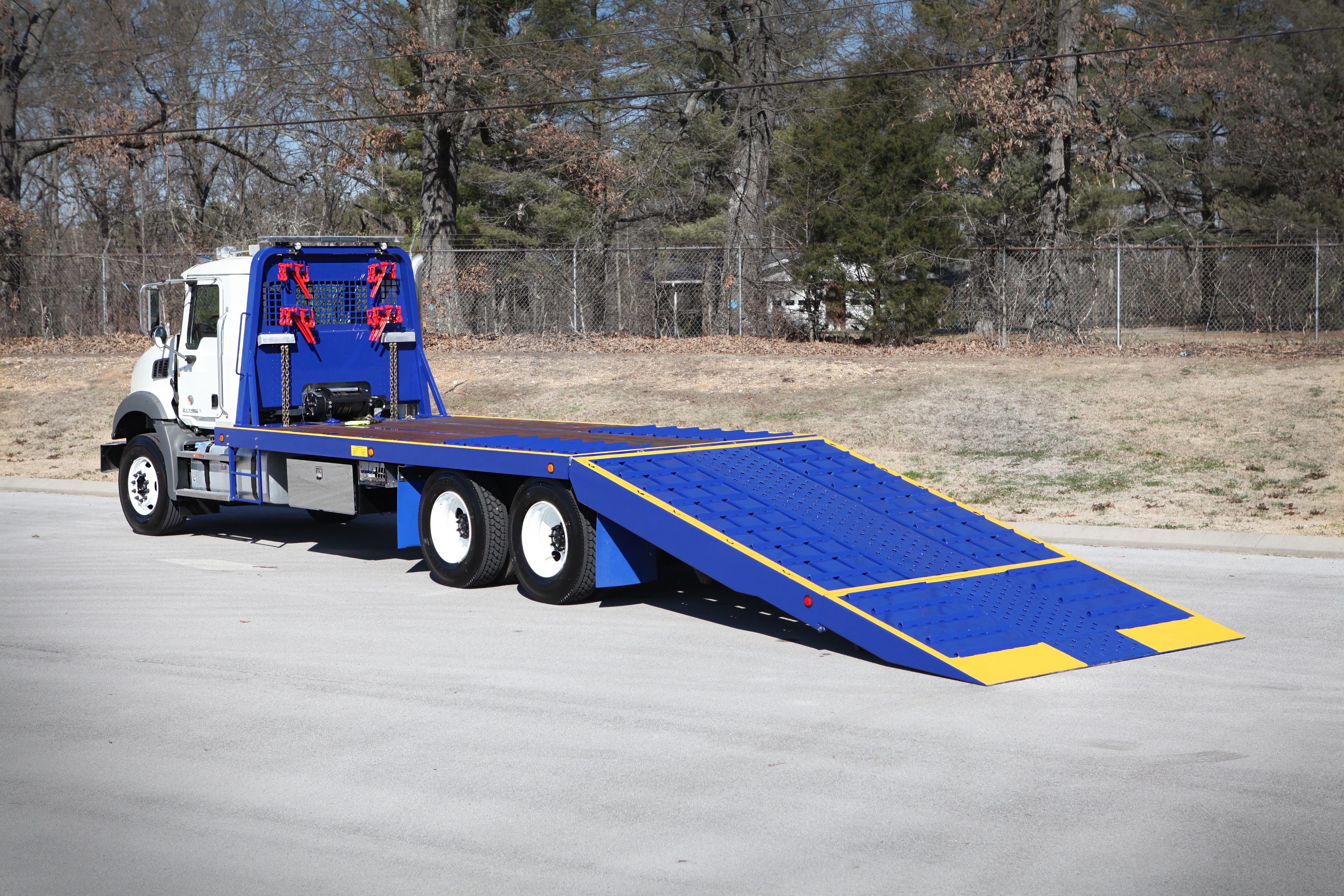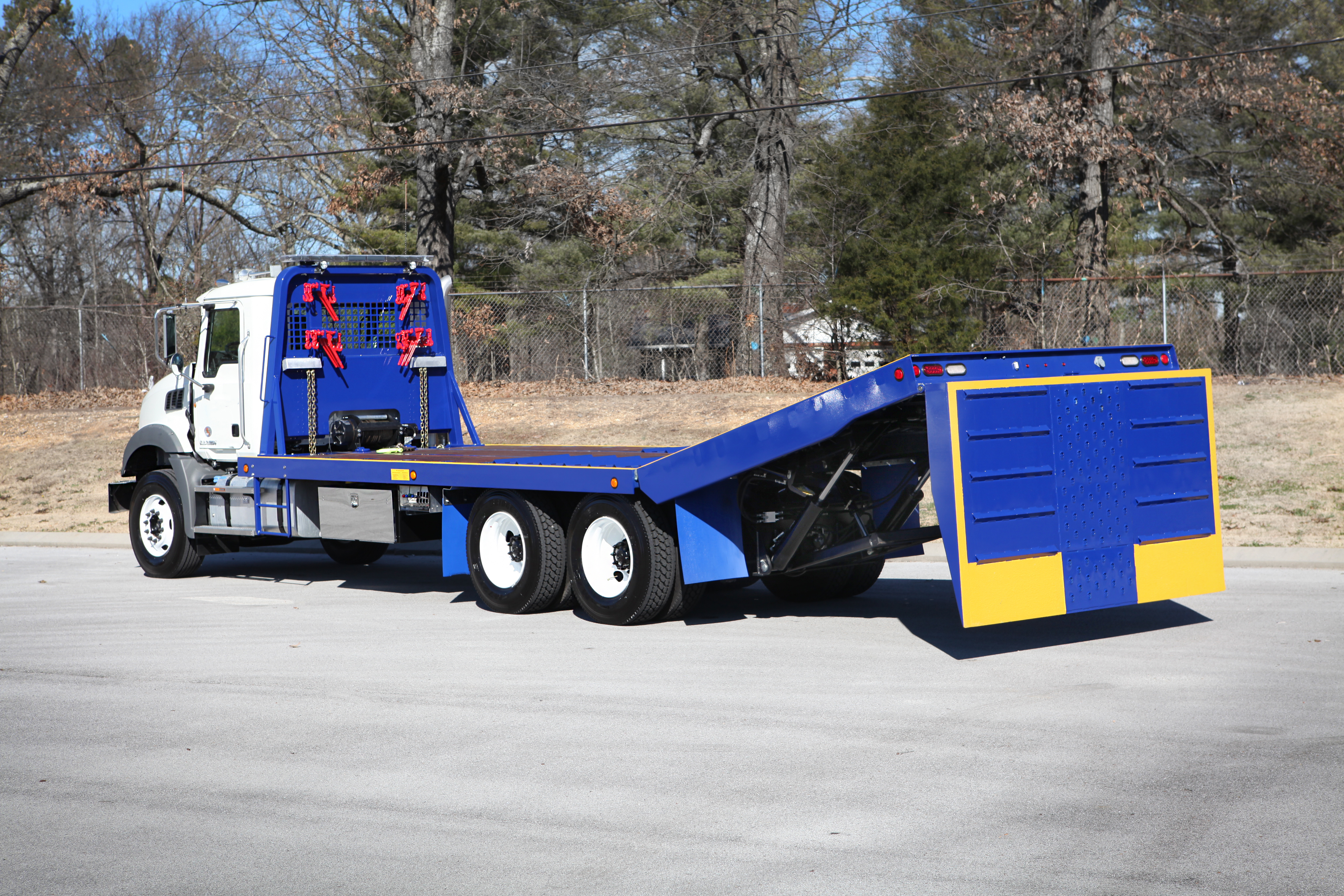 Full Gallery
Features
Standard
28' Platform Length
102" Platform Width
30,000 lbs. Deck
20,000 lbs. Planetary Winch
5" Deck Height above Chassis Frame
Winch Air Free Spool
Steel & Apitong Wood Flooring
Bed Mounted Ladder
Fully Fabricated Heavy-Duty Steel Subframe
Painted with Black Acrylic Enamel
Hydraulic Tail & Ramp Lock
Dual Lift Cylinders
24 Chain Locks
Painted in Black Acrylic Enamel
Floor Level Sides
Reese Style Receiver & 7-Way Trailer Plug
Drivers Side Controls
Body Wiring Harness & Junction Box
Wireless Controller
Federal Standard #108 Lighting
Optional
Bed Mounted Cab Protector
Winch Guard
Additional Chain Locks
Locking Chain Racks (Cab Protector Mounted)
Additional D-Rings
Chain Binder Storage (Cab Protector Mounted)
Optional Body Color (Top & Sides)
Safety Cones & Storage Brackets
Anti-Skid Paint (Top & Sides)
Dual Reverse Camera
Front Mud Flaps & Brackets
Rightway Scale System
62" 10 Head LED Lightbar
Installation
48" Toolbox w/Stainless Steel Door
Triaxle Underbody Lift Axle
Steel Traction Angle (Decking)
Steel Punched Traction Plate (Decking)
Specifications
Deck
| | | |
| --- | --- | --- |
| Lift Capacity | 16,000 lbs. | |
| Main | 226" to Center of Pivot Pin | |
| Middle Section | 114.75" to Center of Pivot Pin | |
| Tail | 60" | |
Chassis Recommendations
| | | |
| --- | --- | --- |
| Minimum GVW* | | 56,600 lbs. |
| Minimum Frame Section Height | | 11.5" |
| Minimum After Frame | | 65" |
| Suggested Tire Size | Front | 315/80R 22.5 |
| Suggested Tire Size | Rear | 295/75R 22.5 |
| Minimum C.B. (Clear)** | 28.4' Carrier Length | 186" CB |
| Minimum C.B. (Clear)** | 28.7' Carrier Length | 190" CB |
| Minimum C.B. (Clear)** | 28.9' Carrier Length | 192" CB |
| Minimum C.B. (Clear)** | 29.4' Carrier Length | 198" CB |
| Minimum C.B. (Clear)** | 29.7' Carrier Length | 201" CB |
| Minimum C.B. (Clear)** | 30.4' Carrier Length | 210" CB |
| Minimum Frame RBM | | 3,000,000" / lbs. |
* Consult the factory for other GVW.
** Use back of vertical exhaust for the usable C.B. and effective back of cab.
Important: All ratings are based on structural factors only, not vehicle capacities or capabilities. Specifications shown are approximations and may vary depending on chassis selected. Miller Industries Towing Equipment Inc. reserves the right to change or modify product and/or specifications without notice or obligation. Some equipment shown is optional.
Keywords: equipment transport , flatbed , forestry equipment , heavy equipment carrier , heavy equipment haulers , heavy equipment movers , heavy-duty , miller industries , no loading dock , rental equipment , rental equipment transport , Tow Trucks For Sale , transport , truck , FRF Folding Ramp Flatbed , titan
Similar to
Titan Folding Ramp Flatbed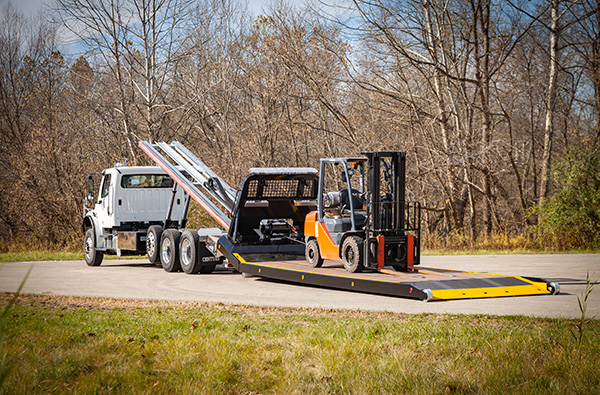 Titan ZLA
Financing Available
24–72 Month Terms
24 Hour Turnaround
Quick & Easy