T7 Long & Short Neck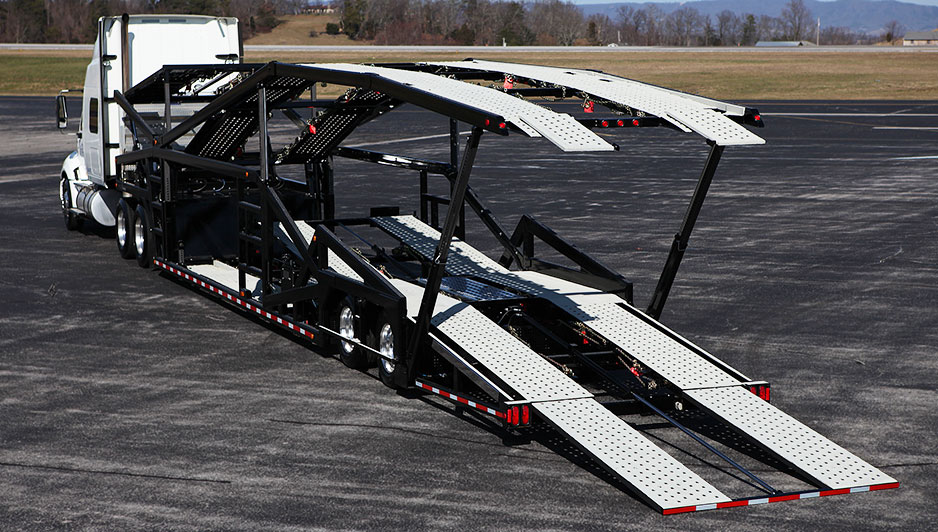 T7 Long & Short Neck
Deliver with Confidence
Your solution for moving multiple vehicles for auto auctions, car dealers, and leasing companies is the Titan T Series multi-vehicle transporter: T7-L 53' and T7-S 53'. Your ability to load six to seven vehicles is fast and easy with the transporter.
More +
The Titan T Series gives you faster loading time over conventional auto transports. Sales and service are provided through a nationwide distributor network. Check out the many quality features that make the Titan T-Series transporter the right choice for your next equipment purchase.
Titan T7 Long & Short Neck Gallery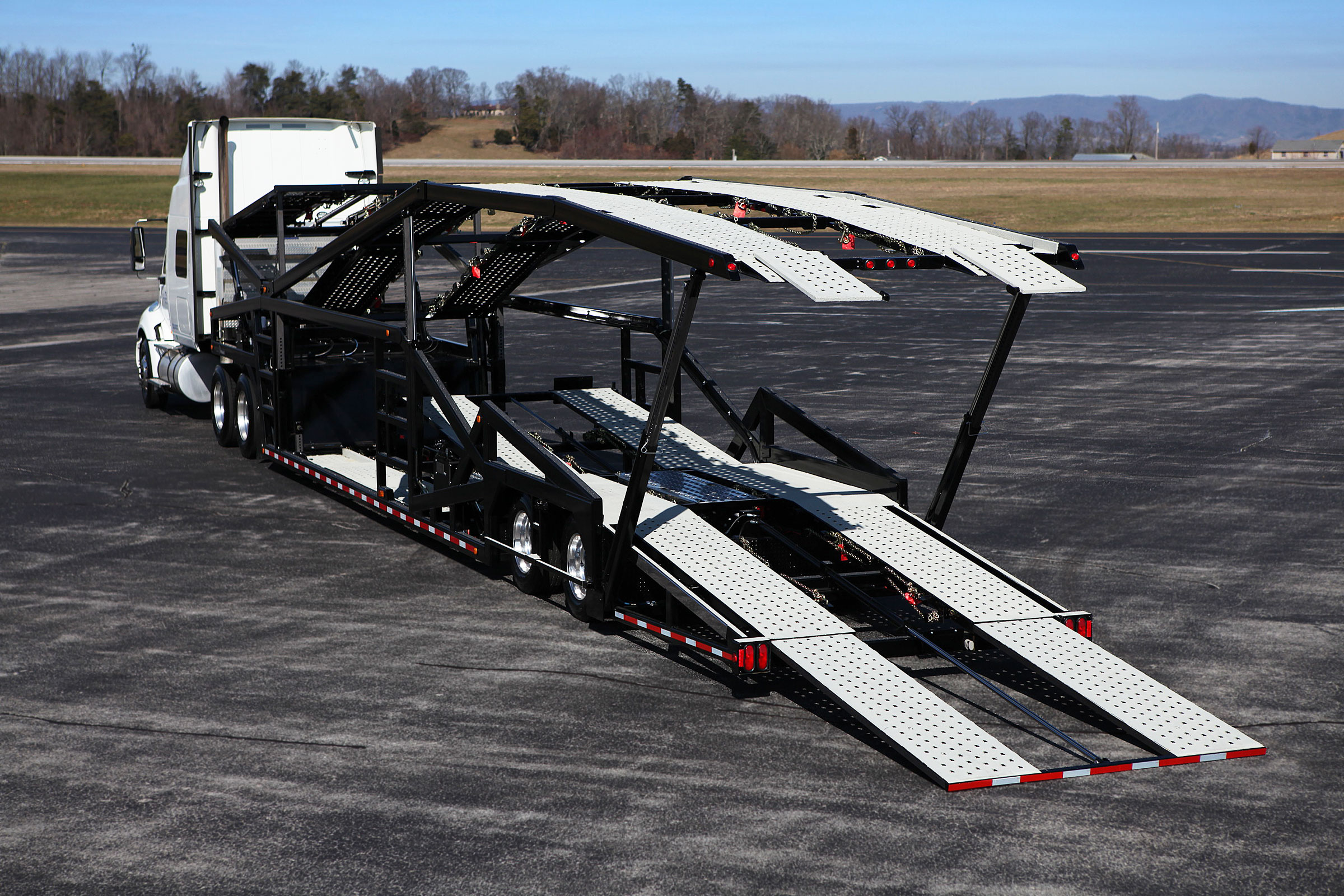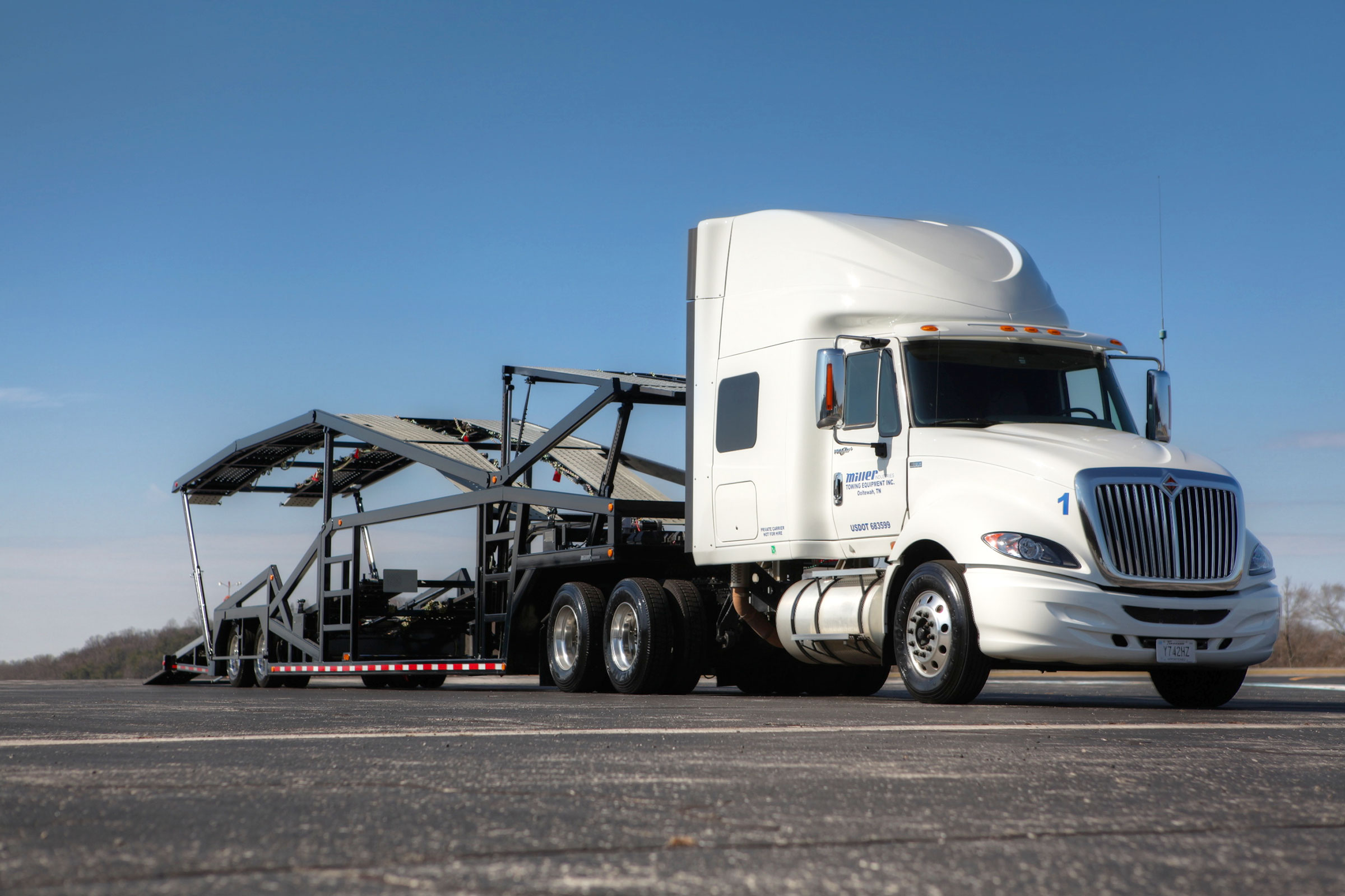 Full Gallery
Features
Top of Page
Standard
Quick Load High Mount Design
Quick Release Tie Down Ratchets
102" Wide for Easy Loading
Chain Trees and Guides on Inside Ramps
Hydraulic Floating Front Deck Two Hydraulic Valves
Hydraulic Rear Loading Ramp
Trailer Suspension Dump Valve
Hydraulic Belly Ramp
Plumbed for Wet Kit w/Quick Disconnect Fittings
Upper Deck Rear Flipper Ramps w/Chain Guides
A.B.S. System
Hydraulic Adjustable Upper Mid-Deck Two 22,500 lb Axles
Steel Welded Deck Construction Low Maintenance Ridewell Air-Ride Suspension
Anti-Slip Deck Coating 255/70R22.5 Radial Tires
Adjustable Front Landing Legs 22.5" Alcoa Aluminum Wheels (Outside Only)
One Piece Steel Bulkhead
4 Lower Load Lights
4 Integrated Ladders
Height Stick Storage Tube
Tie Down Bar
Steel Hydraulic Cylinders w/Safety Pins
4 Belly Drop Pockets
Upper Deck Safety Catwalks
Aluminum Drop Pocket Inserts / Center Catwalks Epoxy Primer with Urethane Top Coat
LED Lighting
Sealed Wiring Harness
Double plated 6' and 8' Tie Down Chains
Warranty - Nationwide Dealer Network
53' trailers may be subject to length law restrictions. Verify with the individual states in which you intend to operate.
Optional
Front Removable Chain Bar
Self Contained Electric - Hydraulic Power Unit
Stainless Steel Trim Package E/H Battery Charge Kit
Hydraulic Drop Belly Ramp
Self Contained Gas - Hydraulic Power Unit
Spare Wheel and Tire (Steel or Aluminum) 19.5" Wheels & Tires
Wheel and Tire Mounting Bracket
Removable Electric Winch Kit
Lockable Storage Box (Steel or Aluminum)
Wireless Remote Kit (Winch)
Height Measuring Stick Suspension Lift Kit (Electric or Manual)
Hydraulic Wet Kit for Tractor
Soft Tie Down Straps
Custom Paint Colors
Additional Side Marker Lights
Additional Flipper Ramps
Keywords: Titan T-Series , auto transport , car transport , vehicle transport , multi vehicle transport , car hauler , trailer , high mount , 7 car , 53 ft , car trailer , longneck , shortneck
24–72 Month Terms
24 Hour Turnaround
Quick & Easy