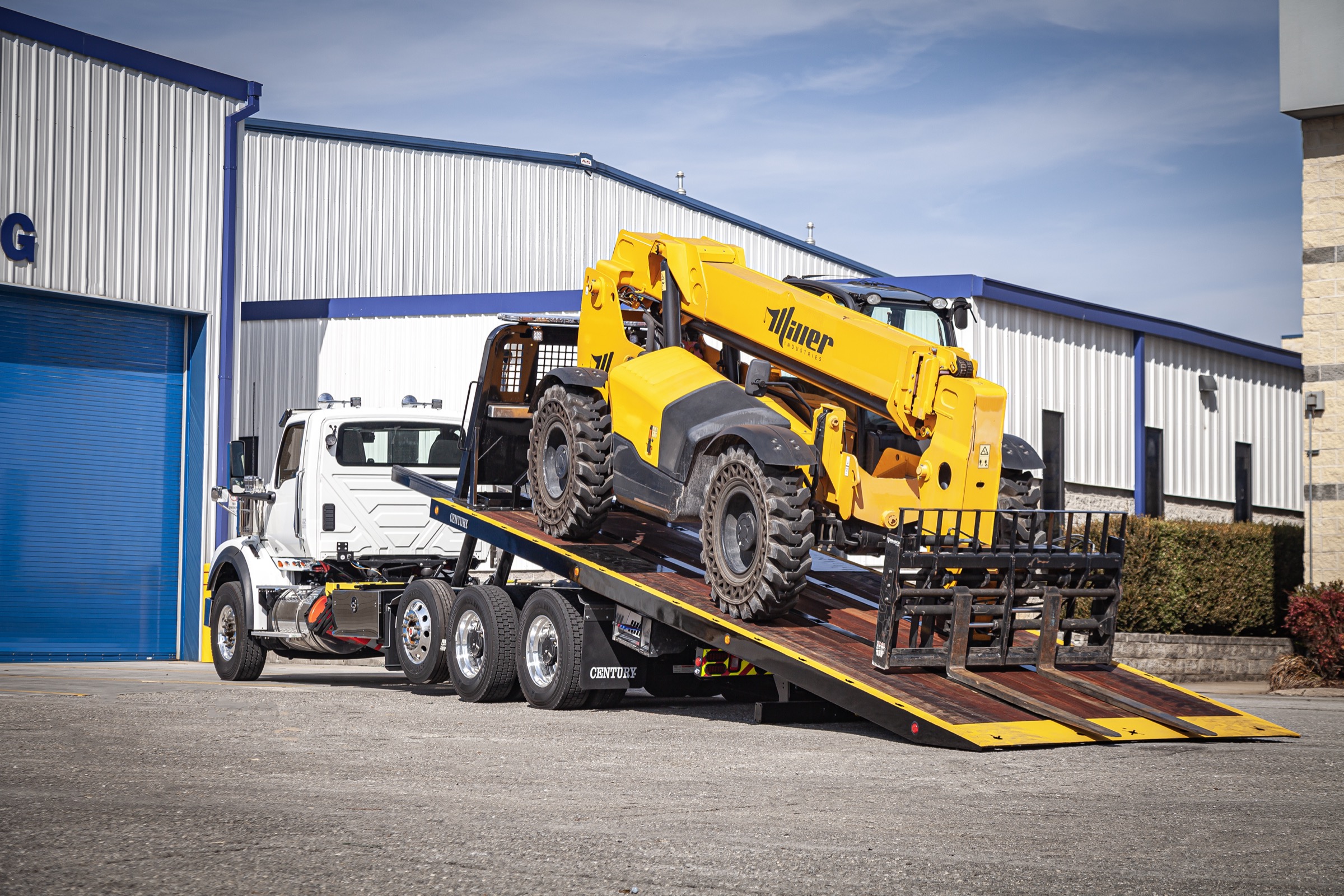 Century R30 ARA Show 2023
The Century R30 is an industrial carrier from Miller Industries that falls under our 30-Series LCG product line. The R30 Industrial Carrier offers a patented LCG- (Low Center of Gravity) platform that uses a revolutionary subframe design allowing the carrier deck to sit 6" to 8" lower than conventional industrial carriers. The low deck height allows for transporting loads that would be over height on a traditional industrial carrier and that need to be hauled on a trailer. Additionally, the LCG™ Carrier is more stable against sway and rollover with heavier loads and provides a load angle as low as 11° making it ideal for loading equipment and machinery. The operator is able to secure most loads from the ground without the need to climb up on the deck. The R30 is designed for a chassis with either tandem rear axles and dual rear wheels or with one of our multiple tri-axle configurations. Deck lengths are available from 26' to 30'.
Century R30 ARA Show 2023 Gallery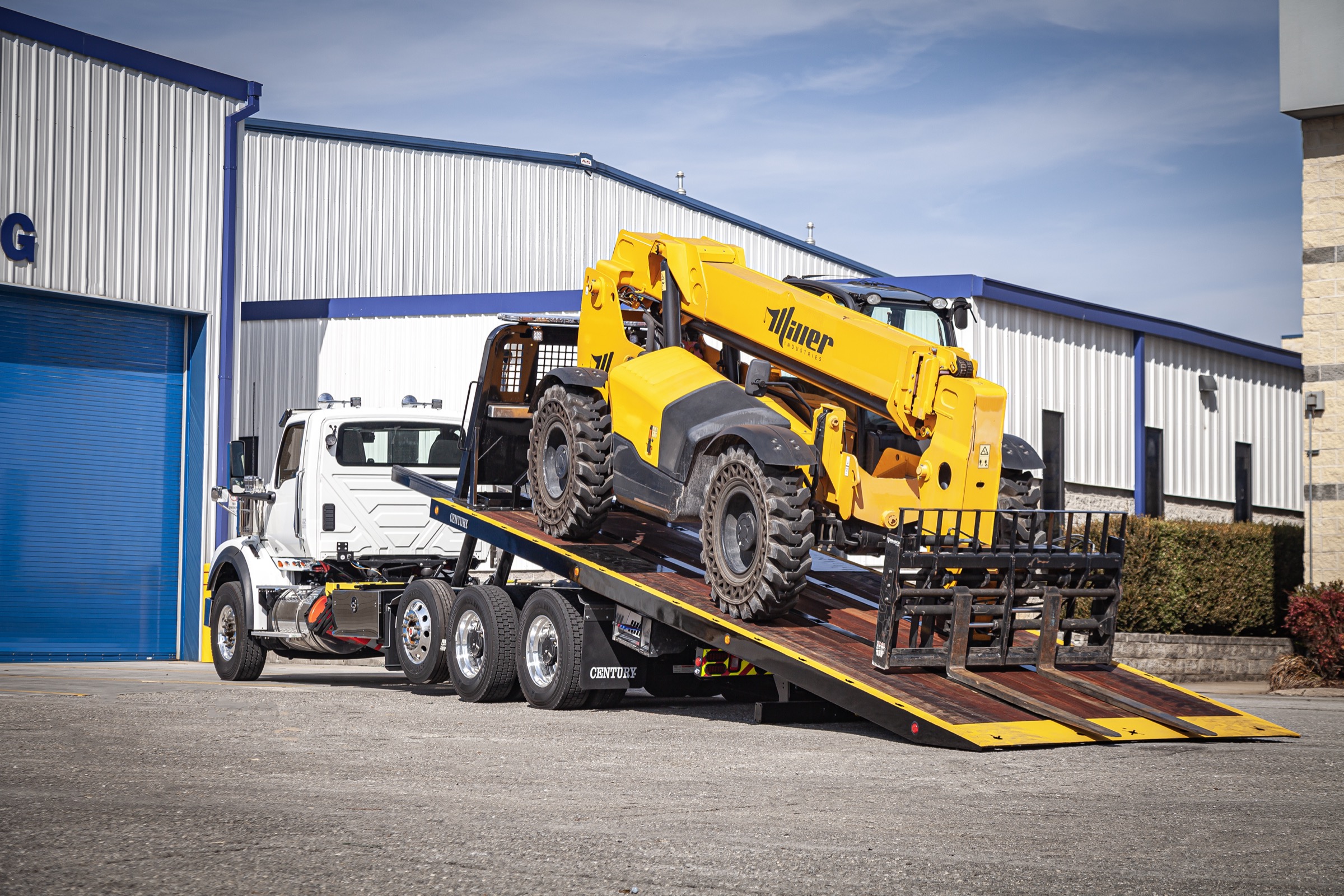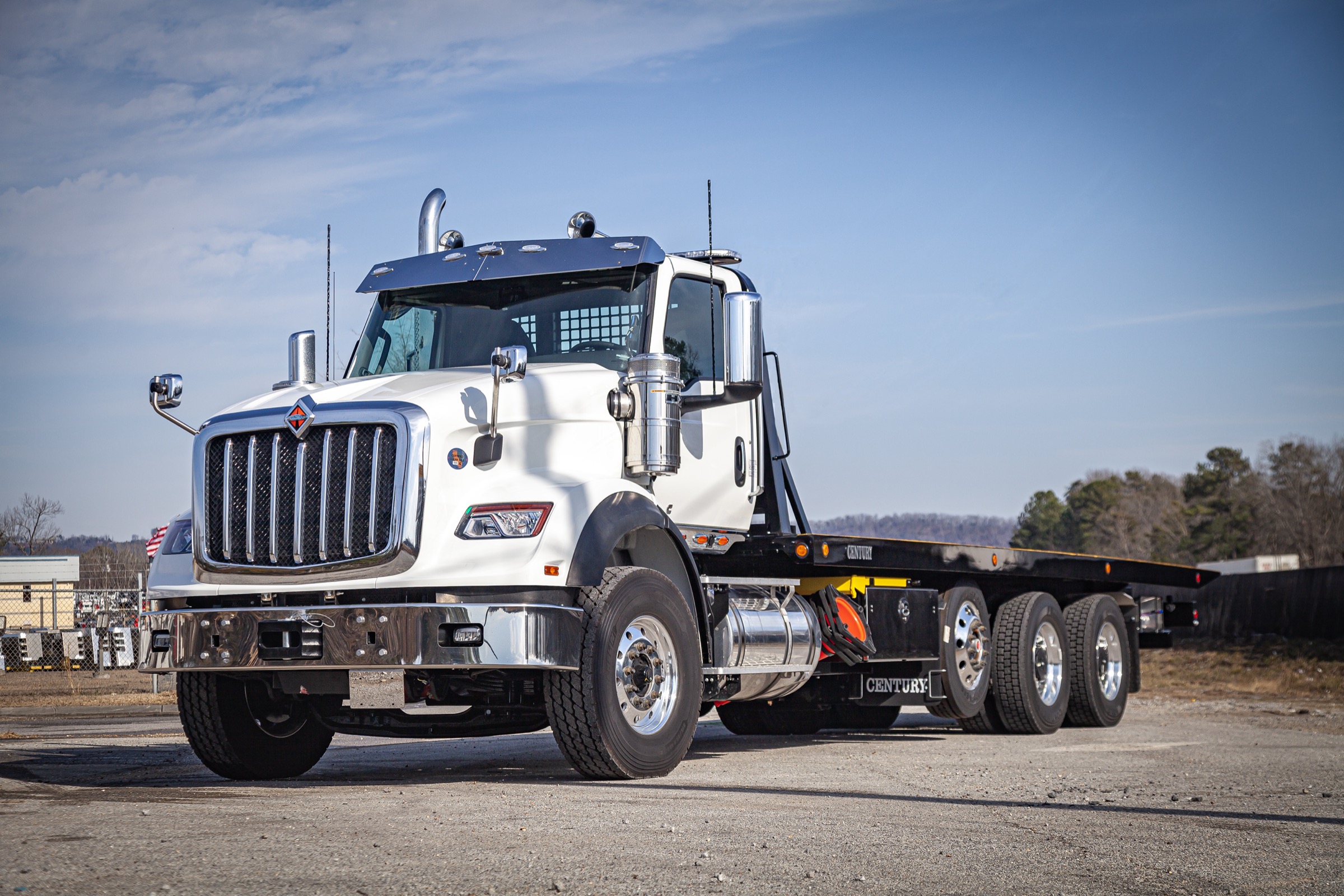 Full Gallery
Features
Deck
Length: 28'
Width: 102"
Wood Flooring
Hydraulic Dock Stabilizer
Additional Chain Locks - 24" OC
Underbody Tie-Down Bar
Winch
Type: Hydraulic Planetary Gear
Capacity: 20,000 lb.
Winch Guard
100' of Cable
Other Features
Driver, Passenger, & Remote Controls w/ Air Shift Free Spool
Hot Shift PTO- (Power Take Off)
All LED Work Lights
Extendable Swivel Pintel Hitch
48" Steel Tool Box
Locking Chain Racks
Dual Reverse Camera w/Monitor
Safety Yellow Traction Paint
Pylon Grab Handles
Halo Air System
Specifications
Chassis Specifications
Brand: International
Model: HX620
Engine: Cummins X15 Performance Series | 565 HP @ 1,900 RPM | 1,850 lb-ft Torque @ 1,000 RPM
Transmission: Allison 4500 RDS | 6-Speed w/Double Overdrive
GVWR: 66,000 lbs.
Wheelbase: 270"
CA: 201"
Front Axle: 20,000 lb. Capacity
Rear Axles: Tandem 46,000 lb. Capacity
Rear Suspension: Hendrickson PRIMAAX EX | 46,000 lb. Capacity
Tires: 315/80R22.5 Front | 295/75R22.5 Rear
Brakes: Dual Air System
Engine Compression Brake
Cab Type: Day Cab
Interior: Diamond Elite Trim Package | Power Door Locks (Driver Side) | Power Windows | Premium Gauge Cluster w/Electronic Speedometer
Telematics: Over the Air Programming | 5-Year Data | International 360
Important: All ratings are based on structural factors only, not vehicle capacities or capabilities. Specifications shown are approximations and may vary depending on chassis selected. Miller Industries Towing Equipment Inc. reserves the right to change or modify product and/or specifications without notice or obligation. Some equipment shown is optional.
Keywords:
Financing Available
24–72 Month Terms
24 Hour Turnaround
Quick & Easy